My last seven dinners:
MONDAY: Spaghetti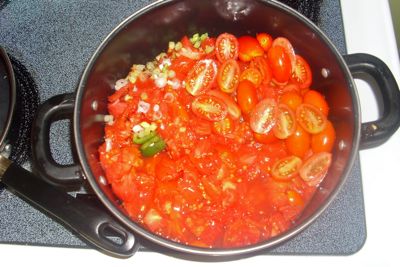 I made my sauce, fresh from the garden, using tomatoes I'd grown. Normally I use Hunts Chunky Vegetable Sauce with a can of diced tomatoes. I use one pound ground beef and one pound regular sausage with one diced, sauteed onion.
My favorite spaghetti is quinoa, which I find at a health food store. Brown rice spaghetti can be found at most grocery stores.

TUESDAY: Low Cal Turkey Meatloaf and Sliced Baked Yellow Potatoes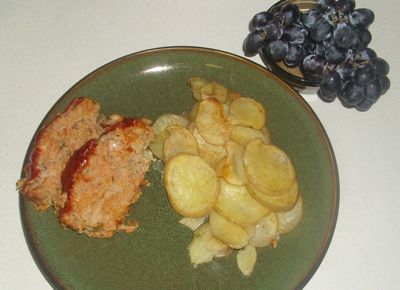 The Turkey Meatloaf can be found in my recipes under "Poultry." It's a fast and super delicious dish!
I prepare the yellow potatoes by spraying a baking or 9×13 cake pan with canola oil, then slicing yellow potatoes thin. I layer them, sprinkling each layer with seasoning salt – usually doing 3 to 5 layers of potatoes. I bake them for 40 to 50 minutes at 400 degrees. They can bake at the same time as the meatloaf.

WEDNESDAY: Stir Fry Chicken with Brown Rice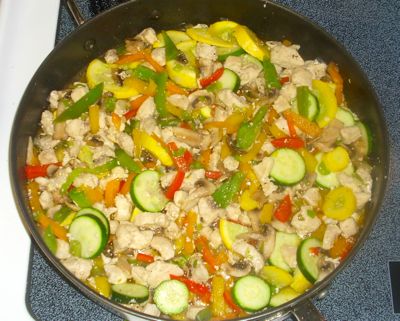 I put my brown rice on the stove to cook.
For my stir fry I used four chicken breasts, cut into small pieces and sauteed in olive oil on medium heat. The veggies I cut up were: 6 mushrooms, 4 green onion, 1/2 yellow/orange/red bell pepper, 1/2 green pepper, 1 Anaheim pepper, 1 crookneck squash & 1 zucchini squash. Any variety you like may be used. I added the veggies to the chicken and sauteed it for a short time.
To serve, I dished up the rice, added the stir fry mix, then drizzled La Choy brand Teriyaki Sauce over my dish. Delicious!

THURSDAY: Pizza & Breadsticks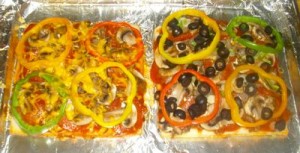 I used Kinnikinnick Foods brand frozen Gluten Free Personal Size Pizza Crusts. I buy them at a health foods store. I have found a variety of frozen pizza crusts, but these are by far, the best! (I have also made my own crust. The recipe for this can be found in my recipes under "Pizza.") I use foil on a cookie sheet and spray with canola oil. My favorite sauce for pizza is Hunt's Chunky Vegetables Spaghetti Sauce. (Any sauce – pizza, marina, tomato sauce may be used.) For my meat I use sausage and usually bacon or pepperoni. For veggies I have a large variety, including mushrooms, olives, green onion, and bell peppers, and take orders from my family. I put cheese on my family members, but leave it off mine, since I eat casein free.
The directions for Kinnikinnick brand crust says to bake at 375 degrees for 15 minutes.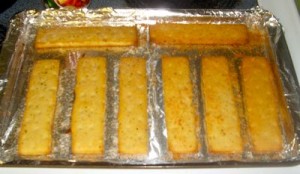 I also cut 2 crusts into four pieces each for breadsticks, and place them on foil sprayed with aluminum foil. I brush with olive oil, then sprinkle with garlic salt. On half of the pieces I add parmesan cheese – for the rest of my family. These can bake for less time – about 10 minutes.

FRIDAY: Manwich Casserole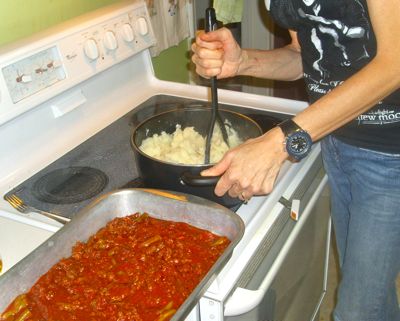 This is very much like what some people call "Shepherd Pie." I steam potatoes and mash them, using olive oil and rice milk, then brown ground beef and add green beans and Manwich Sandwich Sauce. Normally Shepherd's Pie has cheese. My Manwich Casserole doesn't. My family loves this version! The mashed potatoes taste great!

SATURDAY: Oven Baked Chicken Breasts & Oven Roasted Vegetables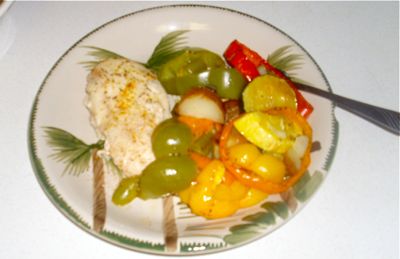 I put frozen chicken breasts into a covered baking dish (either one that has a lid, if I'm baking a small amount, or a baking pan with foil covering it tightly to keep the juices in). For this chicken, I brushed on some honey and lime juice, then sprinkled with seasoning salt. I baked it for one hour at 400 degrees, right side up, then turned it over for ten more minutes with cover on, to soak up the liquids and finish cooking.
I prepare my vegetables right after I put the chicken in, then bake them together. Here I used some small red potatoes, quartered, zucchini, crookneck, bell peppers, green pepper and Anaheim pepper. I usually use mushrooms but was out. I brush olive oil over the vegetables and sprinkle with seasoning salt or lemon pepper. They bake on 400 about 50 minutes.

SUNDAY: Sunday Pot Roast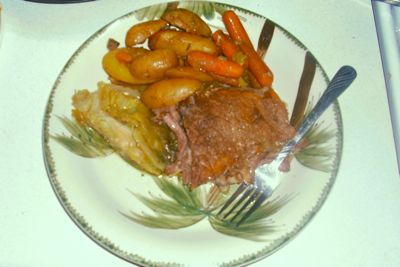 Many years ago, my younger brother told me he puts his Sunday roast in the night before – frozen! Since it's difficult for me to remember to get out my roast, I've been doing this ever since.
For my Sunday roast, I put the roast in my double crock pot frozen. Sometimes it's a bit tricky getting the wrapping off of the roast, so it helps to get it out a little while before. With mine, I added one onion, sliced, a few small red potatoes cut in half, a package of baby carrots and a few slices of cabbage. I put in one cup water and a Tbsp Knorrs Caldo de Res bouillon, then turned my crock pot on low for the night. Our dinner was hot and ready for our early afternoon meal.