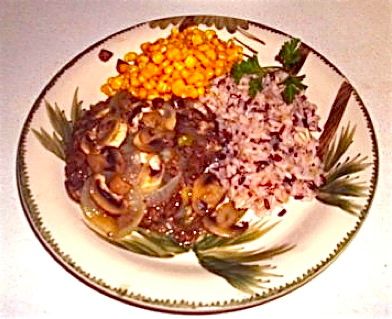 This is a meal I make when I want something nice and hearty. My family loves the refreshing taste of my lemon-rice pilaf. It's the perfect side to accent this meal.
4 cube steaks
2 tablespoons olive oil
corn starch
1 clove garlic, diced
1 teaspoon thyme
1/4 teaspoon pepper
1 large onion, sliced
8 ounces mushrooms, sliced
1 cup beef broth
1/3 cup soy sauce
2 cups water
In large frying pan, heat oil on medium-high. Using a plate, coat cube steaks with corn starch on both sides. Place in frying pan, browning each side one minute. Sprinkle tops with garlic, thyme and pepper. Cover with onion rings and mushrooms. Combine beef broth and soy sauce; pour over steaks. Cover with lid and set burner on medium-low heat. Simmer one hour. Check meat to make sure centers are done.
Prepare rice pilaf according to package directions, add olive-oil and lemon pepper to taste. Mix and serve with steaks and a vegetable.