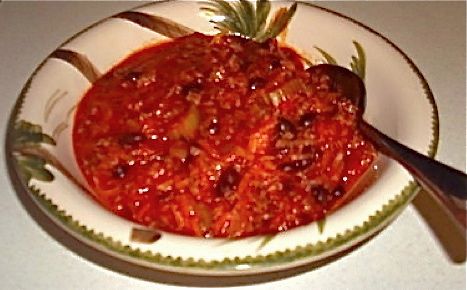 My mom used to make Hamburger Soup and I just loved it! This recipe includes sausage and black beans for a spicier version of this delicious and healthy soup. This is one of my family's favorites!
1 pound lean ground beef
1 pound Jimmy Dean's Regular sausage
1 onion, peeled & chopped
2 cloves garlic, peeled and chopped
2 quarts tomato juice
1 (15.5 ounce) can black beans, drained and rinsed
2 cups grated carrots
3 cups grated potatoes
2 sticks celery, chopped
2 tablespoons fresh parsley, chopped
1 tablespoon salt
1/2 teaspoon pepper
1 teaspoon marjoram
Brown hamburger and sausage with onion and garlic. Drain. Place in large pot and add the remaining ingredients. Bring to a boil on high with lid on. Stir and turn to medium. Cover. Simmer on medium heat for 30 – 40 minutes until vegetables are tender, stirring often to prevent burning.