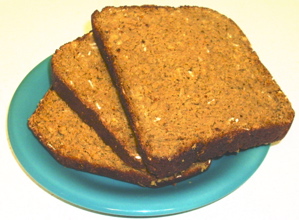 2 eggs, beaten
1-5/8 cup water
3 Tbsp canola oil
2-1/2 Tbsp molasses
1 tsp apple cider vinegar
1-1/4 cup brown rice flour
3/4 cup rice bran
1/2 cup millet flour
1/2 cup quinoa flour
1/2 cup dry milk powder
1 Tbsp guar gum
1 Tbsp flax seeds
2 tsp active dry yeast
1 tsp sugar
1/2 tsp salt
Mix dry ingredients (first 5) with a wire whip until smooth. In another bowl mix dry ingredients until well blended.
Follow instructions on your personal bread maker. Some say wet ingredients first; others say dry. If your bread maker has a "short cycle" option, use it. Be sure to scrape sides of dough down with rubber spatula as needed during mixing cycle.