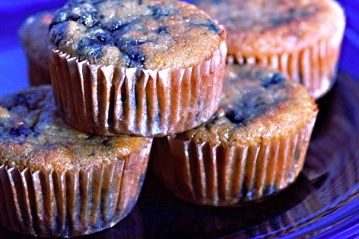 Kids will love the PURPLE dough!
1 cup sugar
1/4 cup shortening
2 eggs
1 teaspoon vanilla
1/3 cup applesauce
1 cup blueberry pie filling
1 teaspoon guar gum
1/2 teaspoon salt
1/2 teaspoon cinnamon
3 teaspoon baking powder
1-1/2 cups gluten-free oats
1 cup millet flour
Preheat oven to 400 degrees. Line muffin tins with muffin liners. In bowl mix sugar, shortening, eggs, vanilla, applesauce and blueberry filling. Add dry ingredients one at a time – guar gum, salt, cinnamon, baking powder, gluten-free oats and gluten-free flour until mixed well. The dough will be a dark purple color.
Spoon into muffin liners – about even with the top.
For crumb topping: Mix 1/3 cup sugar, 1/4 cup gluten-free flour, 2 Tbsp shortening, 1/4 tsp cinnamon. Whisk together and spoon over muffins.
Bake 20 to 25 minutes.