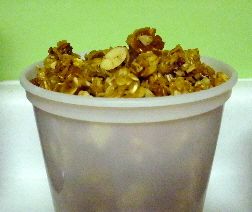 This recipe is gluten and casein free.
5 cups GF oats
3/4 teaspoon salt
1-½ teaspoons cinnamon
1-½ cups chopped almonds
3/4 cup shredded coconut (I use organic, unsweetened)
1 cup brown sugar
1 cup honey
½ cup hot water
1/3 cup coconut oil
In large bowl add ingredients in order. Coconut oil is best melted in a glass measuring cup in a pan of hot water, placed on a burner. (Not best to microwave.) Stir well and poor onto baking sheet greased with coconut oil. Bake at 325 for 45 minutes, stirring every 15 minutes. Granola will stick to pan, so cool in a large bowl, stirring often. If it clumps together it is easily broken apart.
Place in gallon reseal able bag or airtight container.