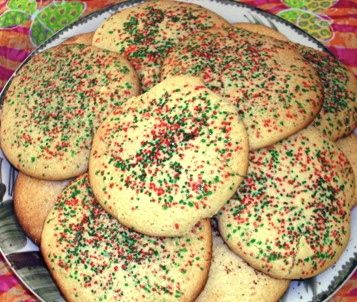 This is a fun baking project to do with a little kitchen helper.
2 eggs
2/3 cup canola oil
2 teaspoon vanilla
1 teaspoon lemon zest
3/4 cup sugar
1 cup millet flour
1 cup gluten-free all purpose baking flour
1/2 cup soy flour
1 teaspoon guar gum
1/2 teaspoon salt
1 teaspoon baking powder
Preheat oven to 400 degrees. In mixing bowl beat together eggs, oil, vanilla, lemon zest and sugar. Add dry ingredients one at a time. Use shortening to grease cookie sheets. Drop dough by spoon onto cookies sheet. Use a flat glass to dip in bowl of sugar or holiday sparkles and press onto cookies. You may need to press glass on dough first, and occasionally while adding sugar to cookie tops. Bake for 8 minutes.