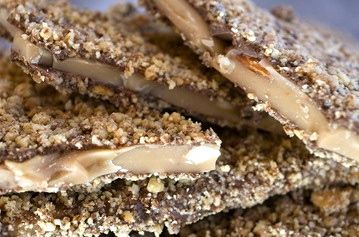 2-1/2 cups sugar
2 tablespoons Karo syrup
1 pound butter
1/2 cup water
1 cup sliced almonds
12 ounce package milk chocolate chips
1/2 cup chopped walnuts
Stir together ingredients at a full boil, until it looks the color of a brown paper sack. Pour on an ungreased cookie sheet. Melt milk chocolate chips and spread. Sprinkle with chopped walnuts. Cool then crack.