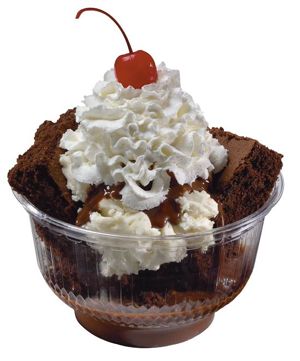 Place these ingredients in a bowl in this order and then mix:
4 eggs
3 teaspoons vanilla
1/3 cup olive oil
1/2 cup sour cream
1 cup granulated sugar
1 cup brown sugar
1 teaspoon baking powder
1 teaspoon salt
2/3 cup unsweetened cocoa
1 cup rice flour
1/2 cup tapioca flour/starch
1 teaspoon guar gum
When well mixed, spray 9 x 13 cake pan with canola oil spray. Spread dough evenly in the pan. Bake for 30 minutes at 350 degrees.
Melt 1 cup chocolate chips in the microwave; spread on top of brownies.
In dessert dishes place one cut square brownie, scoops of vanilla ice cream, whipped cream and chocolate fudge topping.
Enjoy!