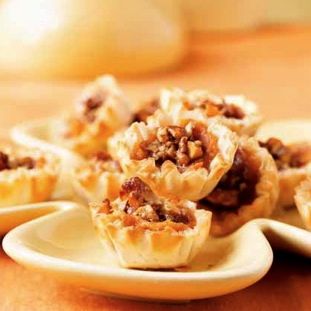 3 ounces cream cheese, softened
1/2 cup rice flour
1/2 cup gluten-free all purpose flour
1 teaspoon guar gum
1/2 cup + 1 tablespoon butter, softened
1 egg
3/4 cup brown sugar
1 teaspoon vanilla
dash of salt
2/3 cup chopped pecans
Preheat oven to 325 degrees. Combine cream cheese, flours, guar gum, and 1/2 of butter. Mix thoroughly and chill, covered, one hour. Divide into 24 small balls and press into bottom and sides of greased miniature muffin pans. Combine egg, brown sugar, vanilla, salt and remaining butter. Beat until smooth. Sprinkle 1/3 cup pecans equally into tart shells. Spoon equal amounts of egg mixture into each one. Sprinkle the rest of the pecans on top. Bake 25 minutes until pastry is golden brown. Cool on a wire rack.