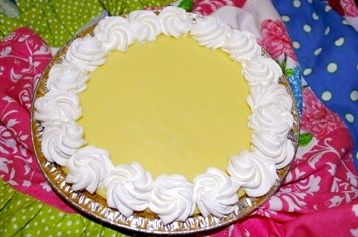 My family loves Marie Callender's Sour Cream Blueberry Pie. After searching over hundreds of websites and recipe books but not finding anything comparable, I decided to come up with my own recipe. My family loves this one!
Pour 1 can bluberries into pre-baked gluten-free pie crust (see Tasty Pie Crust recipe).
Pie Filling
1 cup sour cream
2 tablespoon gluten-free all-purpose flour
3/4 cup sugar
1 teaspoon vanilla
1/4 teaspoon salt
1 egg, beaten
Beat until smooth and pour on top of blueberries in pie crust. Cover crust with foil to prevent burning and bake at 400 degrees for 25 minutes. Cool on wire rack.
Topping
8 ounces cream cheese
1/4 cup sour cream
1/4 cup sugar
1/2 teaspoon vanilla
Mix together and smooth over pie. Chill 1 hour. Garnish with canned whipped cream around top of pie.