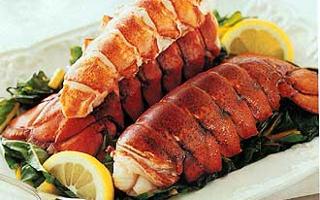 1 lemon, juiced
1 lime, juiced
1 orange, juiced
1/2 cup olive oil
2 tsp paprika
1 tsp salt
2 Tbsp chopped fresh parsley
2 Tbsp chopped fresh cilantro
2 2-lb lobster tails
For salad and vinaigrette:
3 Tbsp fresh squeezed orange juice
1 Tbsp balsamic vinegar
1 tsp honey
1 tsp Dijon mustard
1/2 tsp minced garlic
1/2 tsp orange zest
1/2 cup olive oil
1/4 tsp salt
1/8 tsp pepper
4 tsp chopped cilantro leaves
6 ounces baby spinach, washed and spun dry
1/2 cup diced tomatoes
In a medium bowl, whisk together lemon, lime and orange juices, olive oil, paprika, salt, parsley, and cilantro. Transfer to a large 1-gallon re-sealable plastic storage bag.
Using a large knife, cut the lobster tails in half, through the shell lengthwise. Transfer the tail halves to the food storage bag with the marinade and seal. Place the bag inside a mixing bowl, and refrigerate for at least 4 hours, and up to 6.
Meanwhile, make the vinaigrette: In a small bow, combine the orange juice, vinegar, honey, mustard, garlic, and orange zest. Whisk to combine. While whisking, add the olive oil in a slow but steady stream until fully incorporated. Add the salt and pepper and stir in the chopped cilantro.
Remove the lobster from the refrigerator and allow it to come to room temperature for 30 minutes. Meanwhile, preheat a grill to medium. Remove the lobster tails from the marinade (reserve the marinade) and place them on the grill, cut-side down, and grill for 6 to 7 minutes. Turn the lobster tails over, shell side down, and baste with some of the reserved marinade. Continue to cook until the tails are opaque and fully cooked, 7 to 8 minutes.
In a medium bowl, combine the baby spinach and tomatoes. Add 1/4 cup of the vinaigrette and season with a little salt and pepper to taste. Divide the salad among 4 wide, shallow salad bowls, lay a lobster tail half against a pile of greens, and drizzle with the vinaigrette.