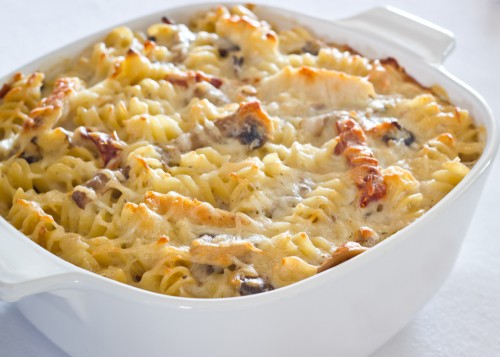 2 chicken breasts
2 Tbsp olive oil
1 pkg gluten-free corn pasta
1 cup sour cream
1 can Progresso Chicken Cheese Enchilada Soup
1 tsp crushed red pepper seasoning
1 tsp onion salt
Cut chicken breasts into bite size pieces. Cook in a large frying pan with olive oil on medium heat until done. While chicken is cooking, boil pasta about 7 minutes (gluten-free pasta requires less cooking time than regular pasta).
When pasta is cooked, combine chicken, pasta, soup, sour cream and seasonings in pan. Mix carefully, as this pasta has a tendency to break. Heat through.
Makes 4 servings.
Skinny Version: use lowfat or fat-free sour cream.