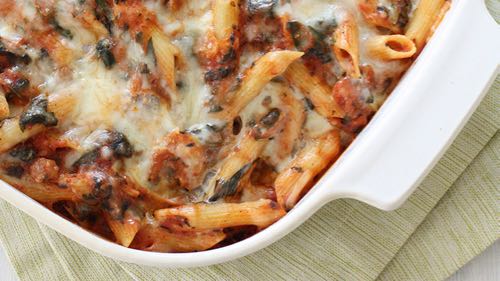 This is a great dish for a dinner party. I always get plenty of compliments when I serve it!
1 pkg gluten-free ziti or penne
1 pkg green onion, finely chopped
1 can Hunts Spaghetti Sauce (any kind)
1 bottle Classic Sun-dried Tomato Alfredo
2 cups frozen chopped spinach
1 pkg Italian sausage, sliced crosswise
4 cups mozzarella cheese, shredded
1 small container cottage cheese
1 cup grated Parmesan cheese
Boil pasta for 5 minutes.
In a saucepan, combine the green onion, spaghetti sauce, tomato alfredo, spinach, sausage and 1/3 of the mozzarella cheese.
Cover the bottom of a baking pan with 1/3 of the sauce (no sausages). Layer half of the pasta over that, then 1/2 of the remaining sauce – including the sausages this time, 1/2 of the cottage cheese, 1/2 of the remaining mozzarella. Repeat the layers: pasta, sauce and sausages, cottage cheese, mozzarella, and top it all with Parmesan cheese.
Cover with foil and bake at 400 degrees for about 30 minutes. Remove foil and bake for about 10 minutes – cheese should bubble and brown.
Skinny Version: Use lowfat turkey sausage, lowfat or fat-free cottage cheese and mozzarella cheese. The alfredo sauce is worth the extra calories!!