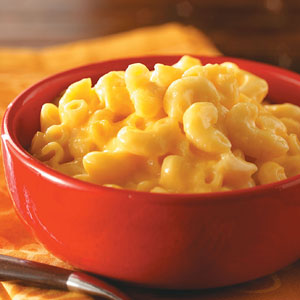 1 pkg gluten-free macaroni
3 cups shredded cheddar cheese
1 cup evaporated canned milk
1/2 cube butter, softened
1 Tbsp onion flakes
1 t seasoning salt
1/2 t pepper
Boil macaroni with a teaspoon of butter in large saucepan for 2 minutes. Remove the pan from the burner and let it sit with the lid slightly open for 7 more minutes. Drain. Return the macaroni to the pan.
Put onion flakes in small custard bowl; cover with water. Microwave for one minute to reconstitute the onion. Add all ingredients to the macaroni and mix in gently.
Makes 4 servings
Skinny Version: Use fat-free evaporated milk, lowfat cheese, and 3 Tbsp butter.