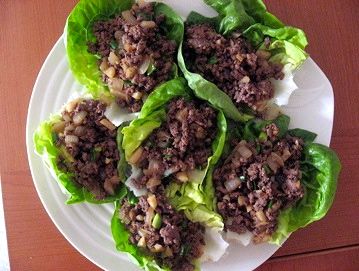 16 Bibb or butter lettuce leaves
1 pound ground turkey
1 tablespoon olive oil
1 large onion, chopped
2 cloves garlic, minced
1 tablespoon La Choy soy sauce
1/4 cup gluten free hoisin sauce
2 teaspoon ginger
1 tablespoon rice wine vinegar
1 8-oz can water chestnuts, drained and finely chopped
1 bunch green onions, chopped
2 teaspoon sesame oil
4 mushrooms, chopped
Rinse lettuce leaves and pat dry. In a medium skillet brown the turkey burger on medium heat. Drain. Add olive oil and onion, stirring frequently. Add the garlic, soy sauce, hoisin sauce, ginger and vinegar. Stir in the chopped water chestnuts, green onions, sesame oil and mushrooms and continue cooking about 2 minutes. Arrange lettuce leaves around the edges of a large serving platter, placing meat in the center. To serve, allow each person to spoon a portion of their meat into a lettuce leaf. Wrap the lettuce leaf like a burrito and enjoy.