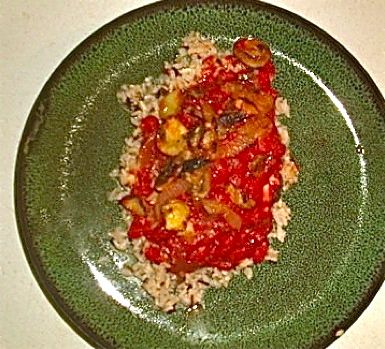 I serve this over a mixture of regular and wild rice.
Chicken:
6 chicken breasts
3 tablespoons olive oil
8 ounces mushrooms, sliced
1 large onion, sliced
1 (28 ounce) can crushed tomatoes
1 (14.5 ounce) can Italian diced tomatoes
4 cloves garlic, chopped
2 tablespoons fresh basil, chopped
2 tablespoons fresh parsley, chopped
1 tablespoon salt
1/2 teaspoon pepper
1/2 tablespoon seasoning salt
Heat oven to 425 degrees. Place chicken breasts in baking pan. In large frying pan, heat olive oil on medium. Add mushrooms and onions, stirring often to sauté the veggies. In bowl add crushed tomatoes, Italian diced tomatoes, garlic, basil, parsley, salt and pepper. Mix well. Pour over chicken breasts. Pour seasoning salt over sautéed mushrooms and onions. Stir then spoon over chicken breasts. Bake 50 minutes.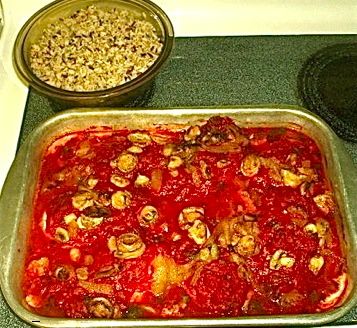 Rice
3 cups water
2 tablespoons olive oil
1 tablespoon Mrs. Dash seasoning (or seasoning salt)
1/2 cup wild rice
1 cup white rice
In pan, heat water, olive oil and Mrs. Dash until boiling. Add rice and stir. Cover and simmer on low for 25 minutes. Fluff with fork.
Serve chicken over rice.