It doesn't get much easier than this!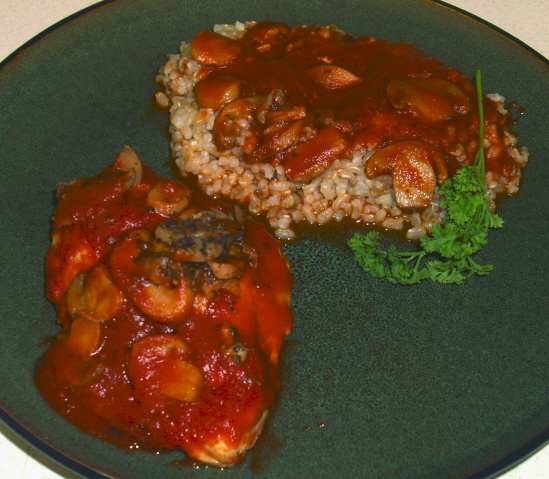 1 whole chicken, cut up, or 6 chicken breasts
1 large can tomato sauce (enough to cover chicken)
1 large can diced tomatoes
large can sliced mushrooms or several fresh mushrooms, sliced
Italian seasoning
garlic salt
onion salt
seasoning salt
rice
Oven Method: Place chicken in a large baking dish. Cover with tomato sauce and diced tomatoes. Sprinkle with Italian seasoning, garlic salt, onion salt and seasoning salt. Place mushrooms evenly over the top. Cover pan with foil. Bake at 400 degrees for one hour, check to see if chicken is cooked. Meanwhile, prepare rice according to package directions.
Stove Top Method: Place chicken in a large pan. Prepare as above. Cover with lid. Bring to a boil, then turn heat to a "4." Simmer one hour.
Serve chicken and sauce over rice. (Brown rice pictured.)