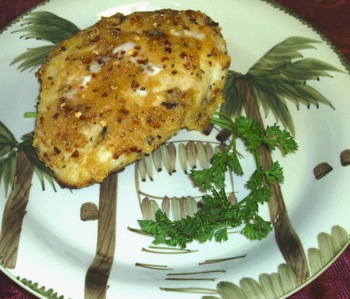 This recipe makes two large or four small chicken breasts.
1/4 cup lemon juice
2 Tbsp creamy honey
1/4 cup corn meal
1 tsp crushed red pepper (more if you like spicey)
1 tsp garlic powder
1/2 tsp basil
2 large or 4 small chicken breasts
Stir lemon and honey together. Add other ingredients and mix well. Marinade chicken in sauce for 1/2 hour. Turn oven to Broil. In baking dish place chicken; spoon marinade over the chicken. Broil about 6 minutes. Take out of oven; turn over chicken. Spoon marinade over chicken. Broil about 6 to 8 more minutes – watch so it doesn't burn.
Serve with fresh parsley.