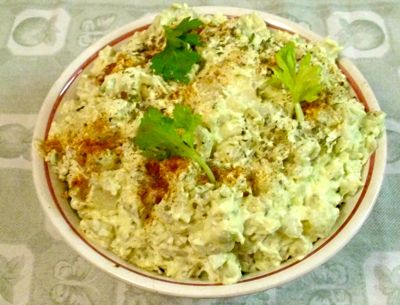 I prepare my potato salad the day before, so the sauce can soak into the potatoes and have a delicious flavor!
5 lb potatoes
12 lg eggs
2 cups Kraft mayo
1 Tbsp mustard
1 bunch green onions
1 red pepper
4 sweet pickles
1 Tbsp dill weed
1 tsp garlic salt
1/2 tsp celery salt
1/4 cup honey
salt – as needed
fresh parsley
paprika
Directions for boiling eggs: Leave eggs in room temperature for 30 minutes. Place in pan one layer deep. Cover with cold water. Bring water to a boil. Cover with lid and take off heat; time for 17 minutes. Carefully dump out hot water. Cover with cold water and ice cubes for 10 minutes. Eggs will be ready to peel, or refrigerate until use.
Slice potatoes into four to six pieces, depending on the size. Place in large pan on top of vegetable rack. Fill with water to just below the rack. Cover and bring water to a boil; turn heat to medium. When potatoes are simmering, if the lid is spitting water, turn heat down more. Steam about 20 minutes, or until potatoes are tender when using a fork. Drain, then pour potatoes onto a cookie sheet to cool. After cooling, skins should easily peel off with a knife. Cut potatoes into bite-size pieces and place in a large bowl. Once they are all peeled, sprinkle potatoes with 1 tsp salt then toss. Sprinkle with one more tsp salt and toss again.
In small bowl prepare the other ingredients. Add the mayo and mustard. Cut tops off and finely chop green onions. Clean out red pepper and dice both red pepper and sweet pickles very small. Add dill weed, garlic salt and celery salt. Add honey and stir all ingredients together. Pour over bowl of potatoes. Toss carefully until all sauce mix is distributed equally. Pour into serving bowl (or wipe rim of existing bowl clean). Sprinkle with paprika and add pieces of fresh parsley to garnish.