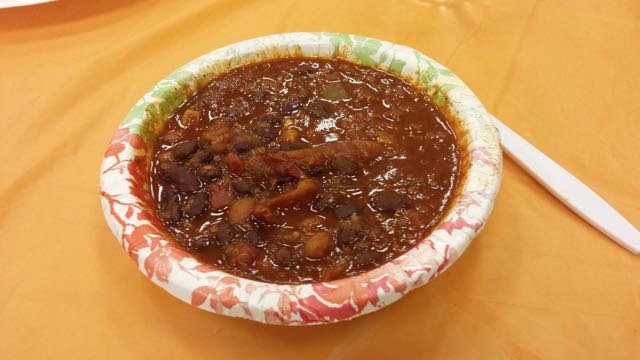 1 yellow onion, diced
1 28-ounce can petite diced tomatoes
1 8.5-ounce jar sun dried tomatoes, drained
2 cups vegetable stock
1 can black beans (drained and rinsed)
1 can kidney beans (drained and rinsed)
1 can pinto beans (drained and rinsed)
1 cup fresh (cut off the cob) or frozen corn
1 green pepper
¼ cup quinoa
1 Tablespoon chili powder
1 Tablespoon cumin
1 Tablespoon sea salt
½  Tablespoon garlic powder
½ teaspoon cayenne pepper
½ teaspoon oregano
½ teaspoon ground ginger
½ teaspoon allspice
½ teaspoon cinnamon
Place all ingredients in crock pot. Stir well. Cook on low 8 hours. Chili will thicken because of the quinoa. Stir and serve.
Serving suggestions: GF/vegan crackers or GF/vegan corn bread and salad.
Note: When I made this for a chili cook off, I made twice this amount. The recipe is enough for a family, but if you want to serve more people you may want to double the recipe. I have a very large crock pot, so it filled it almost to the top. Also, I had to cook on high for 8 hours because of the larger amount.