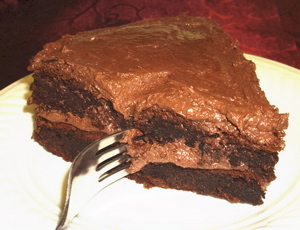 This is a gluten-free version of a cake my big sis used to make.
1 cups white sugar
1 cup brown sugar
3 cups gluten-free flour (one cup of three different gluten-free flours)
1 teaspoon guar gum
2 teaspoons soda
1 teaspoon salt
1 egg
3/4 cup oil
2 tablespoons vinegar
6 tablespoons cocoa
1 teaspoon vanilla
2 cups water
This recipe is easy – put all ingredients in a bowl, and THEN mix well. Pour into an ungreased 9×13 cake pan. Bake 45 minutes at 350 degrees.
Great served warm with whipped cream.
For tasty chocolate frosting:
1 3.9-ounce Jello instant chocolate pudding
2 cups powdered sugar
1 teaspoon vanilla
1/4 cup cocoa
4 tablespoons butter, softened
1/4 cup milk
Mix well and spread on cake.