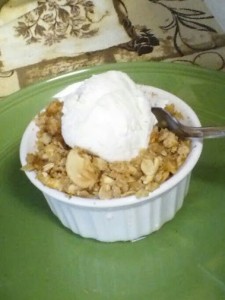 Since my daughter got married last July (taking two of my cute grandkids with her) and then moving with my husband to a new house in October, I admit, I've not beenvery enthusiastic about baking! My husband and I eat a very simple and healthy diet so desserts don't temp me much. Unless it's my birthday and then I NEED cake! My husband is now working to get that small layer of winter warmth off so PLEASE don't tell him I made this!!! I hope the smell doesn't linger when he gets home!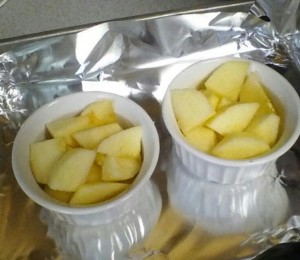 I have these nice, BIG apples looking so delicious! I thought I should get my lazy self into the kitchen to create something.
It was surprising to see what I actually have (and don't have) in my cupboard. I was hoping for some almond meal since I love using it in baking. No worries, I had plenty of other great things to use.
As you can see I made two apple desserts. One for me and one for, well, me! One of my large apples was enough for two ramekins. If you know me very well, you know I don't love to measure so I usually eyeball or use "abouts." I squeezed honey and then sprinkled cinnamon over the apples.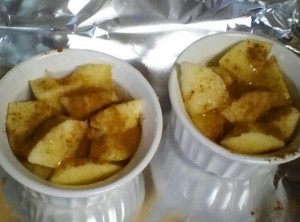 In a small bowl I stirred up (about) ¼ cup GF oats, 1/8 cup millet flour, 1/8 cup quinoa flour, ¼ cup raw cashews, 1/8 cup raw brown sugar, 1/2 teaspoon cinnamon and 1/4 cup softened butter or coconut oil.  I used a fork to smash/stir it into pieces. Then it goes on top!
The ramekins are placed in a pan with foil to avoid drips into the oven.
I baked these at 350 degrees for 30 minutes. And, I happen to have some lactose free ice cream in my freezer!