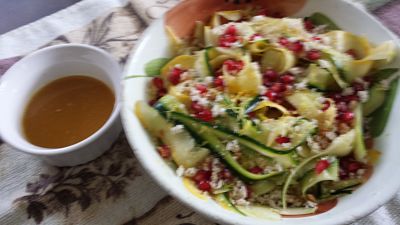 So many people grow squash which is in abundance in the fall. Pomegranates (my very favorite fruit!) come out about October in grocery stores. (Both kinds of squash are usually in stores longer than the garden harvest.)
This salad, using zucchini and yellow squash instead of lettuce is such a fun idea! Adding pomegranate seeds, some grated lemon rind and toasted GF bread crumbs, plus this light dressing makes a perfect fall vegetable salad! I think it looks and tastes AMAZING!
A perfect salad for veggie lovers! See recipe here.