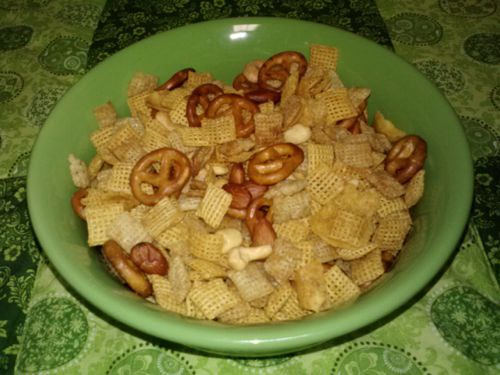 I LOVE salty snacks! My sister Susie has always made a super delicious Chex mix. I'm CRAZY about Glutino brand pretzels so I make my own delicious mix!
I use 3 cups Corn Chex, 3 cups Rice Chex,  2 cups Glutino brand pretzels, 2 cups Scoops Fritos or Tostidos (crunched into bite size pieces), 1 cup mixed nuts, 1 cube butter, 2 tablespoons Worcestershire sauce, 1 1/2 teaspoons seasoning salt, 1 1/2 teaspoons garlic salt and 1 1/2 teaspoons onion powder.
I melt the butter in the microwave, stir the Worcestershire sauce and seasonings into the butter, then pour over my big bowl of Chex, pretzels, chips and nuts, then toss well. I microwave the mix for 5 minutes then pour the mix on a paper towel to cool.
I store some in an air-tight container but can't resist putting some in a bowl to enjoy right away! Mmmmm! Great for the holidays!