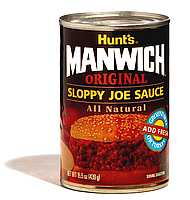 I have always LOVED eating Manwich! But I don't really like gluten-free hamburger buns. Recently I purchased a case of Manwich, and am enjoying different meals with it!
A really delicious one is using Manwich, instead of soup to make what some call a "Shepherd's Pie." I peel and steam some potatoes (about 4 or 5) until tender, then make mashed potatoes my adding a little olive or canola oil and some rice milk. I brown a pound of ground beef, drain and add the Manwich. Then stir in one can of drained green beans. In a oven-baking dish, first put the Manwich, ground beef and green bean mixture. Top with the mashed potatoes. (If you are not eating casein-free, you can add grated cheese to the top!) Bake at 350 degrees for about 1/2 hour.
Another way I enjoy Manwich is to cook some short-grain brown rice, and have my Manwich and ground beef mixture with it. Manwich goes well with brown rice. I LOVE the chewy texture!
My family loves both of these Manwich dinners. Kids love Manwich too. Let me know if you have a Manwich recipe idea. I'd LOVE to hear from you!