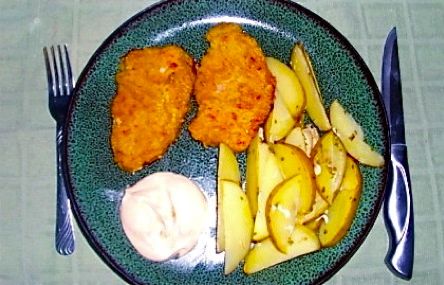 2.5 pounds boneless pork chops
1 cup gluten-free corn meal
1 tablespoon seasoning salt
1/2 teaspoon onion salt
1/2 teaspoon celery salt
1/2 teaspoon oregano
1/2 teaspoon garlic salt
2 eggs
Heat oven to 400 degrees. In small bowl, whisk together corn meal, seasoning salt, onion salt, celery salt, oregano and garlic salt. Set aside. In separate bowl, beat egg. Cover baking pan with foil and spray with oil. Dip each pork chop into eggs, then coat with corn meal mixture. Place on baking pan and cook in heated oven for about 35 to 40 minutes.
Serve with Roasted Yellow Potato Wedges.