Lately I've been thinking about Thanksgiving and pie. The past couple of years I've felt too overwhelmed to worry about pie for myself. I've taken the lazy approach and watched others enjoy their pie, while trying not to show my extreme jealousy! This year I haven't been too excited – yet. Truthfully, Thanksgiving has never been a favorite holiday or even one that I like – due to the years that I often sat and watched others enjoying their delicious meal while my tummy HURT! But now that I have married kids with families and this year, my FIFTH grandchild, I'm trying to hang in there and possibly do better. So, I'm looking for new ideas for pie. I happened upon this wonderful website during my search. PLEASE know that I don't take any credit for the following recipe and ideas! I give ALL the credit to ohsheglows.com! Please be sure to check out more of her ideas!
The following recipe can be found at OhSheGlows.com along with printing instructions.

for the filling:
2 & 1/4 cup canned pumpkin (not pumpkin pie filling)
1/2 cup natural cane sugar or brown sugar
1/4 cup full-fat coconut cream (or almond milk)*, softened
1 tbsp Earth Balance, softened
1/4 cup pure maple syrup (other sweeteners may work, but the flavour will change slightly)
3 tbsp arrowroot powder (or cornstarch)
2 tsp vanilla extract
2 tsp cinnamon
1/2 tsp ground ginger
1/2 tsp nutmeg
pinch of ground cloves
Sweet & Salty Spiced Pecan Crust (Gluten-free)
Absolutely worth every calorie and then some! It's a bit sweet, buttery, lightly spiced with cinnamon, and enhanced with a bit of salt to bring out the flavours. This crust goes so nicely with the pumpkin pie filling! This crust is very sensitive to changes, so I caution against changing things in the recipe.
Ingredients:
1 cup GF certified rolled oats, processed into a fine flour OR 1 cup GF oat flour
2 cups raw pecans
2 tbsp sugar
3 tbsp ground flax
1 tsp ground cinnamon
1/2 tsp kosher salt
1/4 cup brown rice syrup (acts as the binder, honey may work if you prefer that)
1 tbsp coconut oil or Earth Balance
The pecans need to be ground very finely until they release their oils and start sticking to the side of the machine (this took me 35 secs exactly in my processor, fyi). You should be able to form a ball with the pecans. If you don't process the pecans enough the crust will be too dry. With that being said, you don't want to make pecan butter either!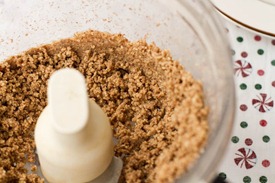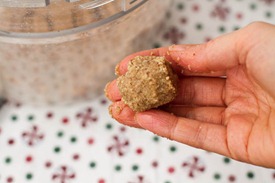 After mixing all the ingredients, the dough should be a bit sticky like this: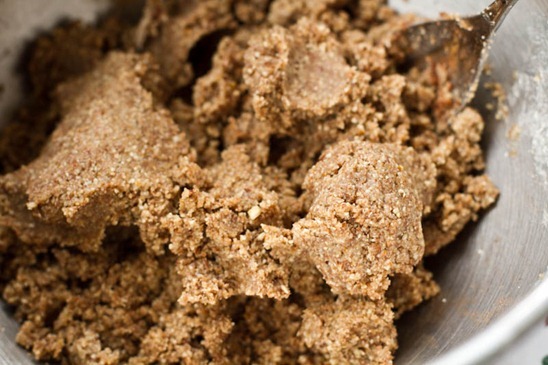 You should be able to form a big ball with it. If it's too dry, add a touch more melted Earth Balance, a teaspoon at a time.
Crumble it into a greased pie dish: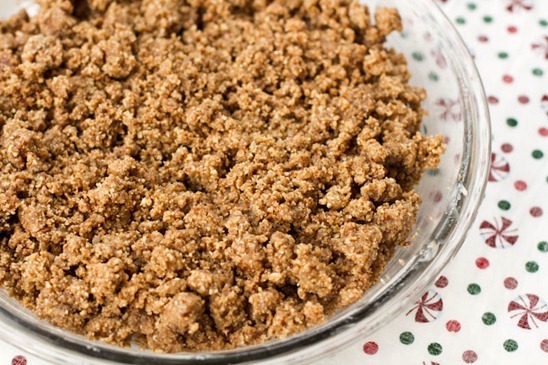 Press down and outward to form the crust (press firmly!) and pre-bake for 10-12 mins at 350F. Cool for 10 mins before scooping in filling and baking. Make sure you let the pie chill for at least a few hours in the fridge before carefully slicing with a sharp knife.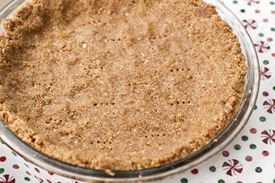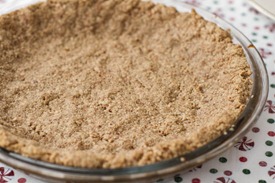 Ding, ding, ding we have a winner!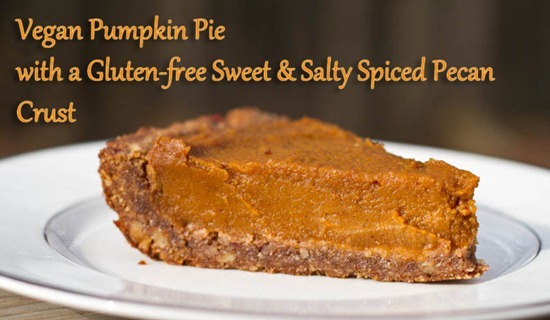 Happy pie baking and Thanksgiving!