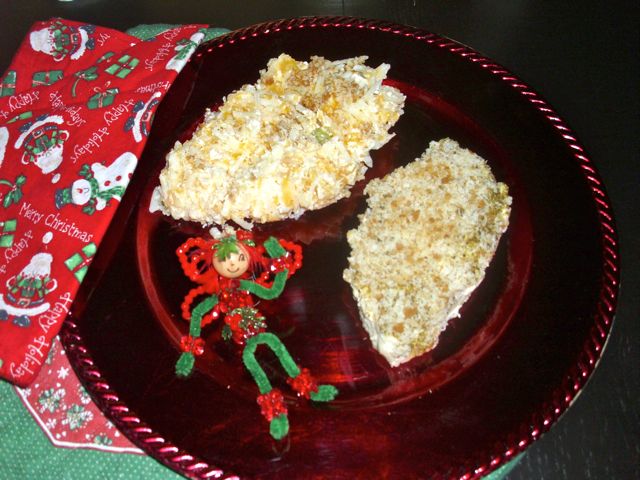 My holiday tradition, from the time I got married and had a family has been a Christmas Eve dinner, which has included my Christmas Potatoes, ham and Christmas jello. Since going gluten-free I have changed my potatoes, by leaving out just one ingredient, which my family never misses! I have recently eliminated pork from my diet, due to causing migraines, so I have come up with a delicious holiday meat. We vary the jello, which originally was strawberry and do raspberry now.
All of these dishes are quick and easy – a necessity for me! I usually don't measure when I'm cooking or baking, so my recipes might not give exact amounts.
Christmas Potatoes
1 bag frozen shredded potatoes
1 pint sour cream
1 stick butter
1 bunch green onions, chopped
4 oz shredded cheese (about 3 – 4 cups)
3 slices gluten-free bread (I use Udi's whole grain)
¾ cup melted butter
Preheat oven to 375 degrees. In very large bowl stir together potatoes, sour cream, butter, green onions and cheese. Pour mixture into 9 x 13 baking pan. Tear bread into pieces and crumble in blender. Mix with melted butter then spread over top of potatoes. Bake 45 minutes.
Holiday Poultry Dish
This is also casein free. This is a moist and tasty meat, since the seasonings and bread crumbs taste like stuffing – my family LOVES this!
Chicken or Turkey breasts (one for each family member)
Kraft mayonnaise
Sage
Poultry seasoning
Onion salt
Garlic salt
Celery salt
Gluten free bread slices (I use Udi's whole grain)
Preheat oven to 375 degrees. Line baking pan with foil. Spray with oil. Arrange breasts so they don't overlap. Spead thin layer of mayo over each breast. Then sprinkle each with sage, poultry seasoning, onion salt, garlic salt and celery salt. Break bread into pieces and crumble in blender. (Two slices covers about 6 breasts.) Sprinkle over tops. Bake in oven about 45 minutes, depending on size of breasts.
*I put BOTH the potatoes and poultry in to bake at the same time on two different racks, then switch dishes to different racks half way through.
For Christmas Jello I use a large package of raspberry jello and use thawed, frozen raspberries. When set I top with Cool Whip – which is casein free.
My kids are grown up with their own families, but still BEG for Christmas Potatoes way before Christmas! They are SPOILED and will being having them at least THREE times this season!
Happy Holidays!