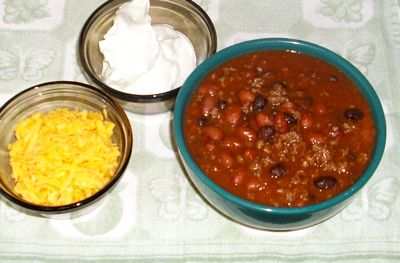 I've always loved my sister Susie's famous chili. She came up with it several years ago, while finding something that would be healthy, would be filling, and be low fat and low calorie. Now my daughter Kayli has been making it too! It's simple and quick, and you can use a variety of meats, including lean ground beef, ground turkey or chicken, plus a variety of different beans.
For Kayli's latest she used:
1 lg can diced tomatoes, blended in blender
1 can red beans
1 can black beans
1 lb lean ground beef
1/2 tsp chili powder
1/2 tsp ground cumin
1/4 tsp onion salt
Brown meat in a frying pan and drain. Drain cans of beans. Combine all ingredients in a medium pan and heat through. This recipe can also be made in a crockpot and cooked on low for about 4 hours. Serve with your choice of toppings such as shredded cheese, sour cream, etc. (I have mine plain, since I eat casein-free, and it tastes delicious!) Makes 4 servings.
My family doubles this recipe to have leftovers for the next day! Susie's suggestions are:
+ Use a can of diced tomatoes that are chili-style for more flavor, such as Hunts or Del Monte brand.
+ Rinse ground beef in hot water in a colander after browning to remove excess fat.
+ A favorite option: We also love chunks of chicken breast browned in a little hot oil (instead of ground meats) before adding other ingredients. It's Delicious! (But don't overcook it.)
+ I use quite a bit more chili powder and cumin – I like it spicy!
+ Also good on top of a bowl of salad veggies, as a taco salad. Add cheese, sour cream, and a few corn tortilla strips for crunch (I use Fresh Gourmet brand).