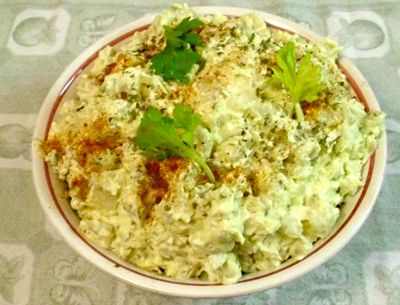 Summer Picnic Potato Salad
5 lb potatoes
salt as needed
1 dozen eggs
4 green onion
3 cups Kraft mayonnaise
1 Tbsp mustard
1/2 tsp celery salt
1/2 tsp dill weed
Using a vegetable rack in a large pan for boiling, wash and cut potatoes into quarters or six pieces, depending on size, leaving skins on. Turn burner on high until lid rattles, then leave on medium heat until potatoes are tender. Carefully drain water and place potatoes on baking sheet to cool. After cool, peel skins with a paring knife and slice potatoes into bite-size pieces. Place pieces into a large mixing bowl. After potatoes are prepared, salt well – I count to about 60 shakes (this will depend on your own salt shaker), and stir potatoes.
In another pan boil 12 eggs. When boiled, run under cold water. Peel eggs. In mixing bowl, shred eggs with a cheese grater. Finely chop green onions. Add mayonnaise, mustard, celery salt and dill weed. Stir well and add to big mixing bowl of potatoes; stir in well.
In an appropriately sized serving bowl, add the finished potato salad. Sprinkle top with parsley flakes and paprika for color. Keep in fridge until serving.