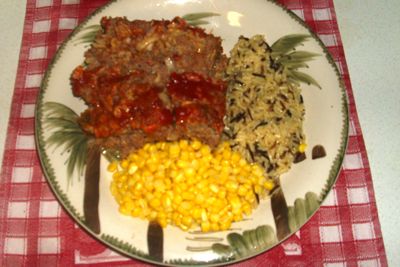 Meatloaf wasn't my favorite, but 4 years ago I started using this recipe. I love it because it's both QUICK and DELICIOUS! Now I love it, and my family loves it too! I have two versions in my Gluten-Free recipes. One under "Poultry" using ground turkey is "Low-Cal Turkey Meatloaf." Another in "Beef" uses ground beef and sausage for a spicier version and is "Spicy Salsa Meatloaf."
Here is the basic recipe:
2 lbs ground beef or ground turkey
1 onion, diced
1 pkg Knorrs Vegetable Recipe Mix
3 eggs
1 cup salsa
1 cup gluten-free oats
1 cup ketchup
In large bowl mix together meat, onion, Vegetable Recipe Mix, eggs, salsa and oats, using a big mixing spoon. Separate the mixture into two breadpans. Divide the ketchup over the top of the two and spread. Bake at 350 degrees for 50 minutes.
The Knorrs Vegetable Mix can be found by the soups in most stores.
My family loves this served with homestyle mashed potatoes or rice.