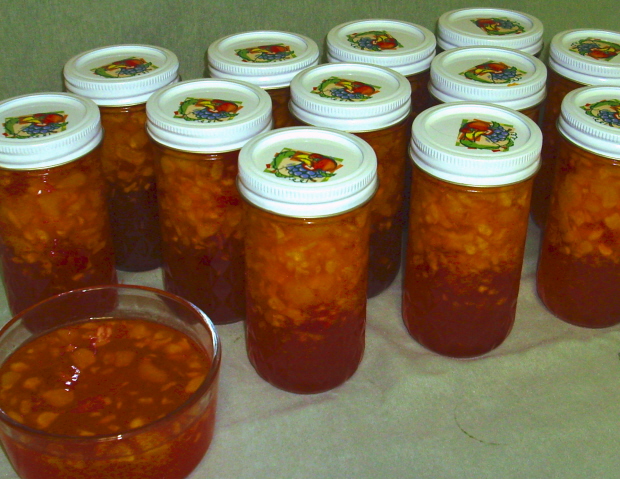 If you've never made jam, now is the time to try it! You can find wonderful fruit at fruit stands, farmers markets and even your grocery store. I had about 20 peaches. To make jam I also needed canning jars (or jelly jars), lemon juice (I use the kind in the bottle), pectin and LOTS of sugar. I also put a small jar of maraschino cherries in mine.
To make jam – buy the pectin first – it usually is sold in twos. Follow the directions in the pectin box. There are two ways of making jam. The quick and easy way is to make freezer jam. It's very delicious, if you have room in your freezer.
I cooked my jam so it can be stored in my cupboard. Be sure to follow directions as to how many cups of fruit, lemon juice, sugar and pectin to use. I wanted to make my Mom's peach jam that was my FAVORITE when I was young. I chopped the maraschino cherries and added them, plus part of the juice.
It's fun to try any jam – whatever fruit is available to you. You may even find a new favorite!