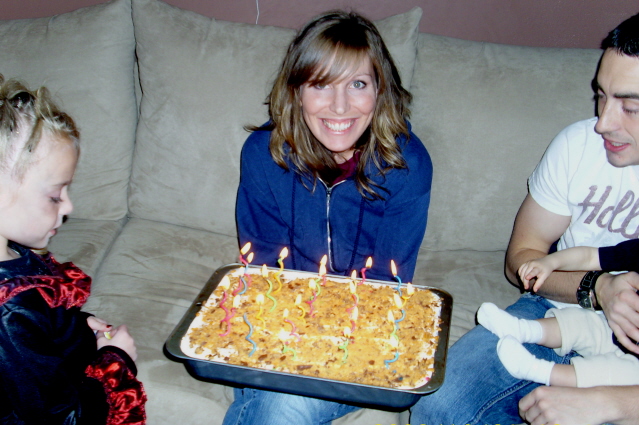 When we were planning for my daughter-in-law Louise's birthday celebration, my daughter Kayli wanted to surprise her with a special cake that ALL of us could enjoy. Kayli decided that she'd make an ice cream cake, so began going through ideas for gluten free ice creams, fillings, and candy bar toppings.
Among the ice creams were vanilla, chocolate, chocolate chip, strawberry, mint chocolate chip, fudge ripple, butterscotch, and cheesecake. (The list goes on!)
Fillings included caramel, chocolate, strawberry, butterscotch, marshmallow, plus any flavor of Jell-O pudding.
Candy bars included Reese's, Heath, Butterfinger, and M & Ms.
Kayli prepared the ice cream cake the day before our party and used real whipping cream for the frosting. Our cake turned out delicious, thanks to her! Kayli's recipe:
HAPPY BIRTHDAY LOUISE! You're a terrific wife, mommy, sister-in-law and daughter-in-law! We sure love you!