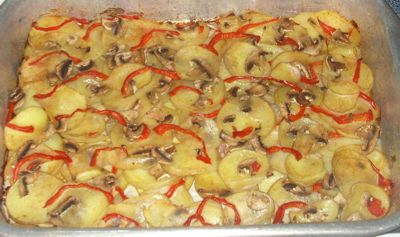 I LOVE the buttery quality of yellow flesh potatoes! This dish is quick and easy, and can be made extra flavorful just by adding a few mushrooms and a red bell pepper.
My daughter-in-law, Louise has made us her delicious baked "potato chips" several times. I have added my version to my recipes: Sliced Yellow Potato Bake. This shows my assembly line.
For our family dinner today, I added fresh corn on the cob and baked lemon-herb chicken breasts, which went well with these potatoes!