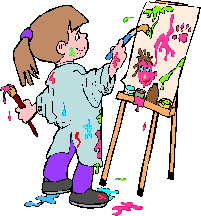 Back to school for gluten-free and casein-free kids brings up another important point: Art projects!
Some art supplies, such as play dough, glue, and paint, contain gluten. I wouldn't worry so much about getting gluten on the skin, but every kid I know tends to stick their hands in their mouths at times. For this reason, play dough can be their worst enemy! Most play doughs are made from wheat flour, which means GLUTEN! Brands to watch out for are Play Doh, Crayola, Ross, and Rose Art.
Crayola Model Magic, however, is gluten-free and casein-free. Be very careful that you do not get Crayola Play Dough instead! Silly Putty is another product that is gluten-free. To avoid any problems at school, I suggest making your own play dough and providing it to your child's teacher for use at school. Here's the recipe:
GLUTEN-FREE/CASEIN-FREE PLAY DOUGH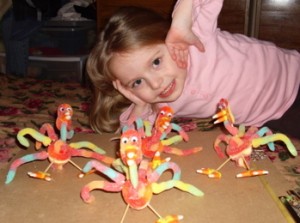 1/2 cup rice flour
1/2 cup corn starch
1/2 cup salt
2 tsp cream of tartar
1 cup water
1 tsp cooking oil
food coloring
Put all ingredients in a cooking pan and cook on low heat, stirring constantly until a ball is formed. Remove from heat. When cool, pat until smooth. Store in a baggie.
GLUE
Beware of teachers using paste made of wheat flour and water. Gluten-free/casein-free certified options are:
• Elmers Glue and Glue Sticks
• Ross Glue products
STICKERS AND TAPE
Many sticker and tape products contain gluten. Here are some that are certified gluten-free:
• 3M-brand tapes, including Scotch Tape and Post-It Notes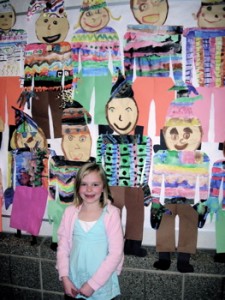 • Rose Art-brand stickers
• Sandylion-brand stickers
• Smilemakers-brand stickers
• Mrs. Grossman's-brand stickers
PAINT
Elmers and Ross brands of paints are NOT gluten-free. Instead, look for:
• Crayola – all paints, including finger paints
• Palmer – all paints
• Prang – all paints
• Ross – except finger paints
• Elmers – except finger paints
MISCELLANEOUS
• All common brands of pencils, pens, crayons, and markers are GF/CF
• When using milk cartons for art projects, rinse thoroughly first
• Food items used for projects, such as Cheetos, pretzels, and candy, are available in gluten-free brands
• Corn or rice macaroni is available in regular grocery stores
If there is still a worry about the products being used, have children wear latex or rubber gloves. For peace of mind, volunteer to help. And remember that communication with the teacher is the MOST IMPORTANT thing!